Urine Analyzer
CE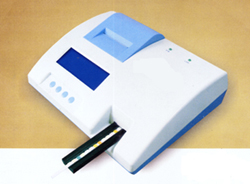 EIGHT SPECIAL FUNCTIONS
.Test 13 items at the same time.
.The test range is expanded: calcium and pregnancy
.You can choose to test 10 items, 11 items or 13 items at one time.
.Test results can be printed out directly; There is LCD display
and the test result can be recalled.
.USB port to PC
.Equipped with battery
.Cold light is used.
Tested items
10
Leukocytes, Occult Blood, Nitrite, Urobilinogen, Protein, pH, Specific gravity, Ketone, Bilirubin , Glucose
11
Leukocytes, Occult Blood, Nitrite, Urobilinogen, Protein, pH, Specific gravity, Ketone, Bilirubin , Glucose, Vitamin C
13
Leukocytes, Occult Blood, Nitrite, Urobilinogen, Protein, pH, Specific gravity, Ketone, Bilirubin , Glucose, Vitamin C, CRE, Calcium

test theory
test by cold light
test method
test strip color change with three wavelength
wave length
420nm, 550nm,650nm
test speed
60 specimens per hour
print
built in speedy thermal printer outlet to pin printer
data output
USB port to PC
display
LCD
operation enviornment
Temperature 10¡æ-35¡æ humidity ¡Ü95%
power
AC220¡À22V, 50¡À1HZ, or DC9V,1.5A 12VA
meter dimension
265*217x96mm
net weight
1.3kg(include battery)